Beste Bilder 2020
Before and after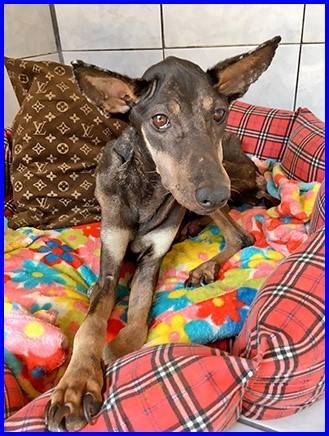 Queen Sissi
- Our dog from the BIG C, which many animal lovers have tried in vain to capture, is now with us in the large animal shelter.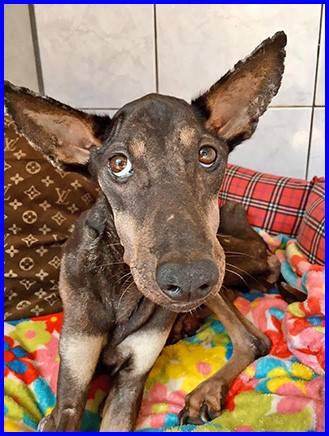 For weeks many animal lovers from the island tried to catch them. Without any success. Almost every day for weeks I received calls from tourists and expats that a dog was in terrible condition in the parking lot of the BIG C and would probably die without immediate help.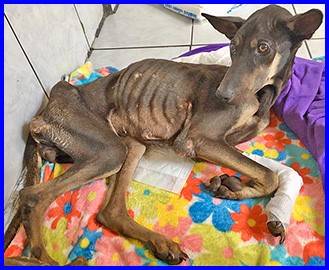 We were there three times, but my Thais were just as unsuccessful as the many animal lovers who tried everything to capture them. Queen Sissi never let anyone get close enough ... for weeks! Various animal lovers from the island fed them daily for a long time. That didn't help either, Queen Sissi stood firm.
Ultimately, tourists managed to lure them into a dog crate during a night mission. We picked her up and Sybille has been taking care of her ever since. She couldn't have lasted much longer in the parking lot. She could barely hold on to her paws.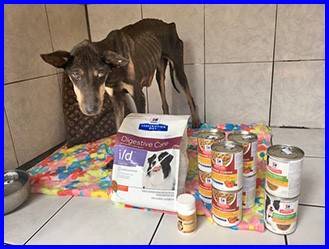 Dr. Sith examined Queen Sissi and since she constantly has diarrhea, she now needs special food over a longer period of time to bring her intestinal flora back into order. We suspect that several animal lovers from the island have given her antibiotics or other medicines and their bodies have yet to recover. With normal food she has constant diarrhea.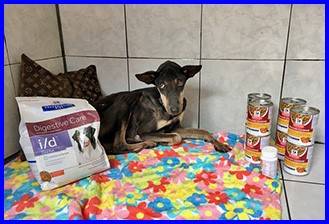 The special feed is very expensive and we can't really afford it. In the beginning we got food for them from animal lovers on the island, but unfortunately the interest quickly waned. Please help us and donate to Queen Sissi. She has been through so much that it would be sad if we couldn't buy any more food now.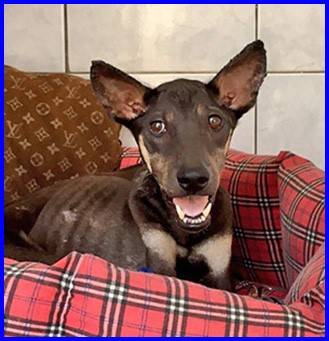 QUEEN SISSI - after

She clearly feels comfortable in her basket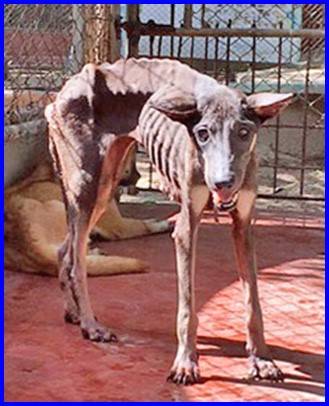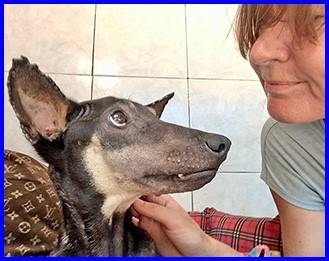 With Sybille, Queen Sissi is in the best of hands. She trusts Sybille,
what you can see in their "smile" and their gaze.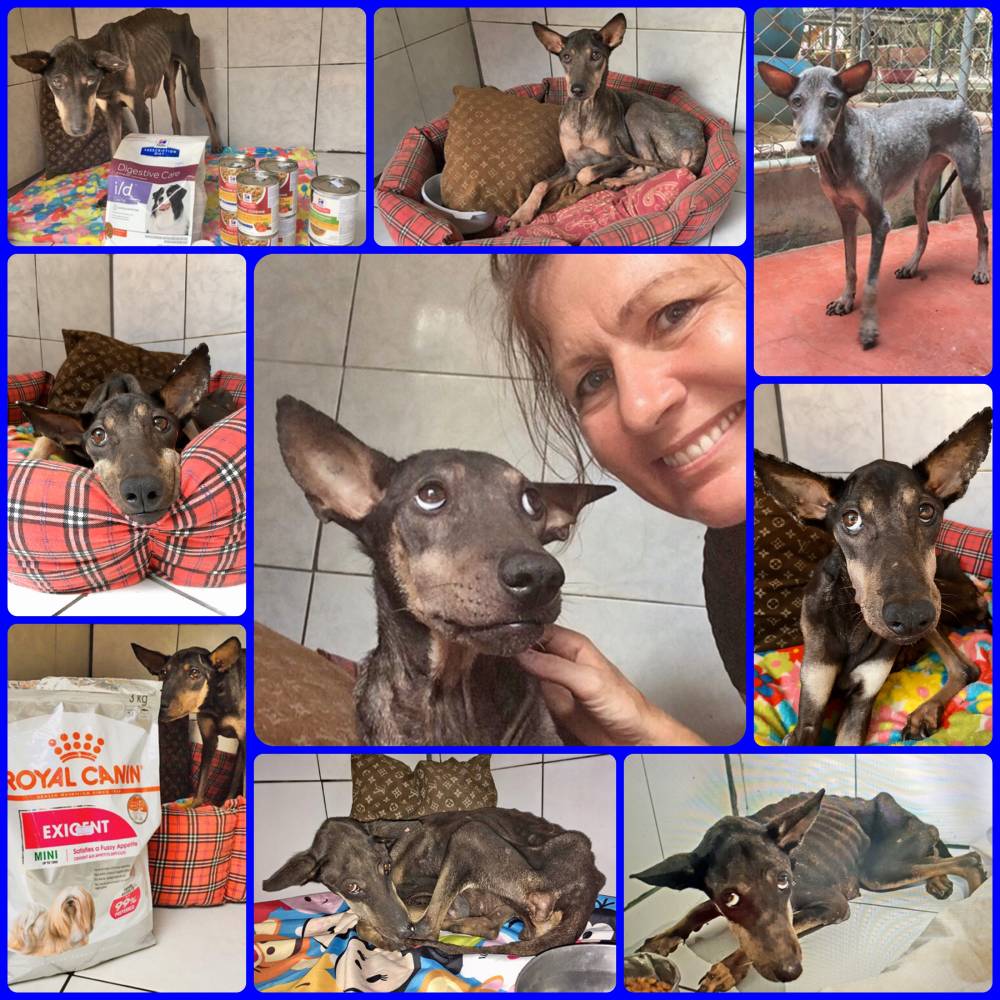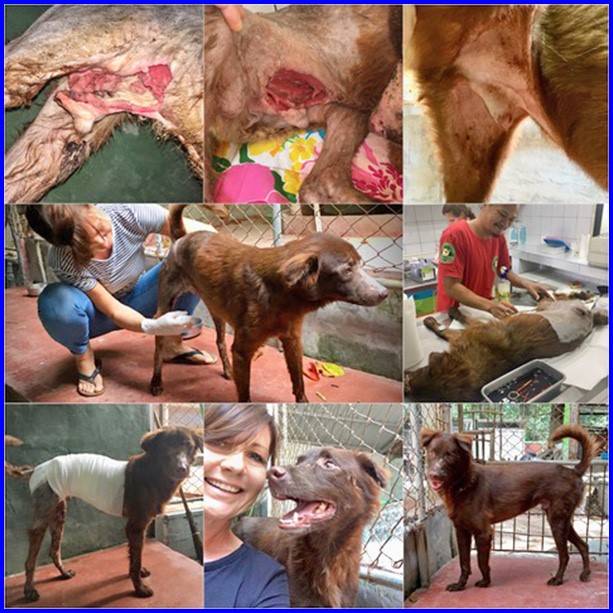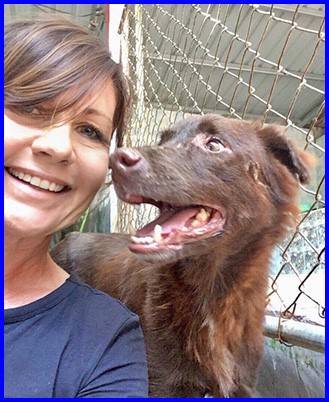 ADDISON
Addison kam im Januar zu uns ins Dog & Cat Rescue Samui. Er hatte eine große entzündete Wunde im Bauch- und Genitalbereich mit einem massiven Hämatom. Viel von seiner Haut und dem darunter liegenden Gewebe war abgestorben.
Solche Wunden entstehen häufig, wenn die Tiere von einem Auto oder Moped angefahren und von einem Rad mit geschleift werden. Das abgestorbene Gewebe haben wir operativ entfernt, aber die Wunde war viel zu groß und entzündet, um alles direkt zu vernähen. Tägliche Wundpflege und Verbandswechsel inklusive einer Antibiotika-Therapie und Schmerzmittel haben das Übrige getan. Nach acht Wochen ist unglaublicher Weise alles vollständig verheilt. Addison war ein ganz großartiger Patient, der alles geduldig jeden Tag über sich ergehen ließ.
Mittlerweile ist er schon wieder zu Hause.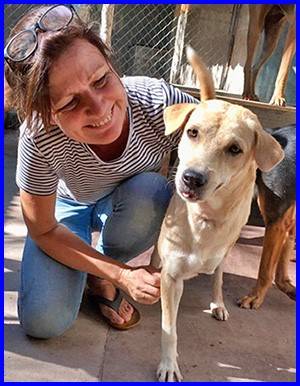 ARYA

The delicate bitch Arya was a complicated case. She was run over by a car. Her left front leg was shattered, several open fractures and the bones protruding. Unfortunately, her left hip was also broken. At first Arya couldn't do anything and we didn't know if we could help her at all. Of course, we cannot perform complicated trauma surgery operations with bone screw connections or the insertion of metal plates in the animal shelter ... unfortunately. And of course, amputating both legs was not an option. So we started with conservative therapy and Arya is a real fighter. She was given good pain medication and we started acupuncture. When the fracture in the pelvis became more stable, we started physiotherapy to strengthen Arya's muscles again. We couldn't save her foreleg, but after a long period of therapy the young lady is standing upright again. A beauty on three legs.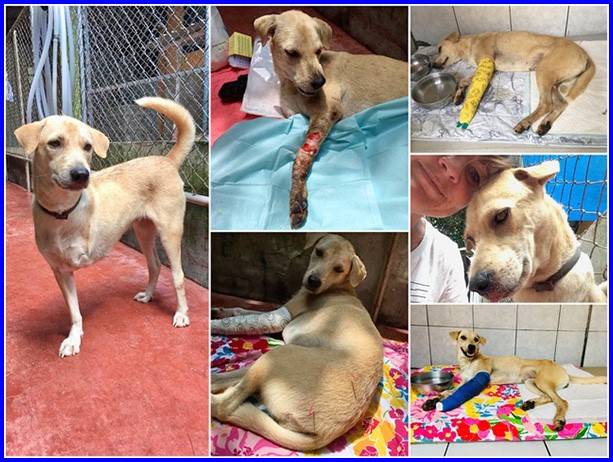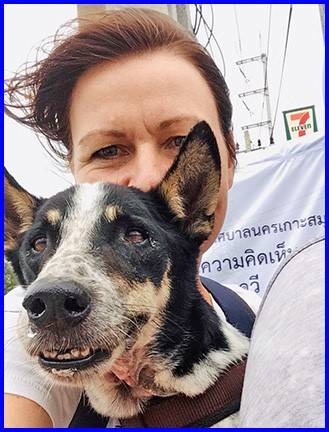 BERTIE

Bertie kam mit einer dieser typischen Wundinfektionen zur Dog & Cat Rescue Samui Foundation . Solche Wunden sehen fürchterlich aus, aber sind unser täglich Brot. Meist verursacht durch eine wirklich kleine Bisswunde oder anderweitige Verletzung. Durch die klimatischen Bedingungen in Thailand ohne medizinische Versorgung, können diese kleinen Wunden sich schnell infizieren, Fliegen legen ihre Eier ab, Maden entwickeln sich in der Wunde und diese wird immer größer. Das alles passiert in wenigen Tagen. Aber, zum Glück, sind solche Wunden einfach zu managen. Tägliche Wundreinigung, eine Antibiotika-Therapie und nach bereits einer Woche war alles verheilt. Bertie war der perfekte Patient und total happy bei seiner wahrscheinlich ersten Mopedfahrt, als wir ihn zurück zu seinem Platz gebracht haben.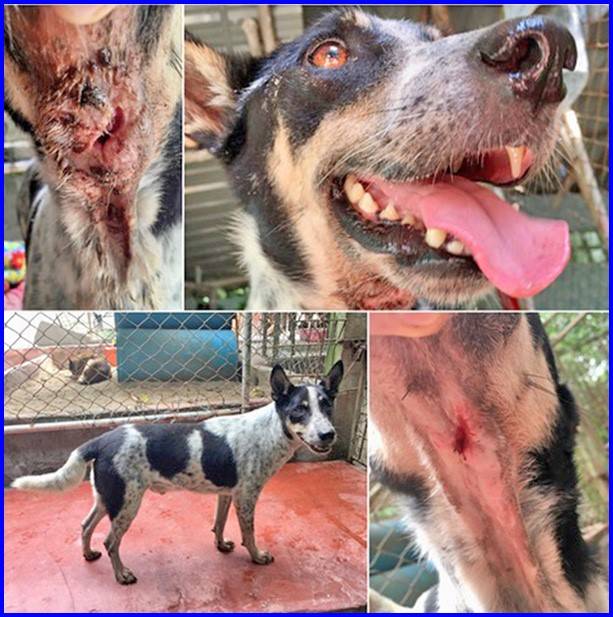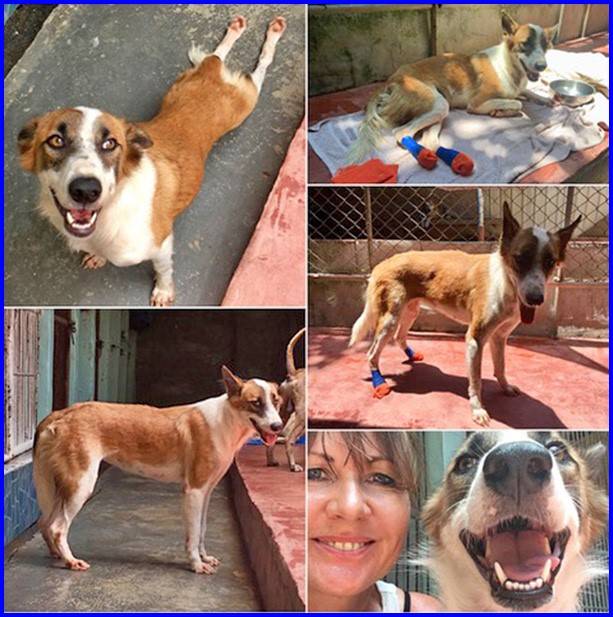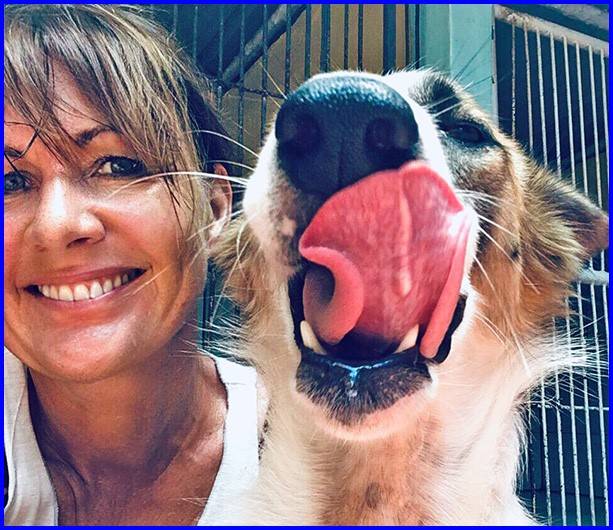 SANSA - after

Sansa was run over by a car a long time ago and has lived with us in Dog & Cat Rescue Samui ever since. The wounds have all healed, but neurological damage has persisted. Sansa couldn't use her back legs properly and couldn't coordinate normal movements. Most of the time, Sansa was dragging her hind legs behind her. We started with massages and acupuncture. She had to endure loads of physical therapy. So that Sansa could find more support on the sometimes slippery ground, we made her a pair of shoes with more grip. In the meantime, she has hardly any deficits and the best thing is, a friend from the island has adopted her. She's doing really well with her.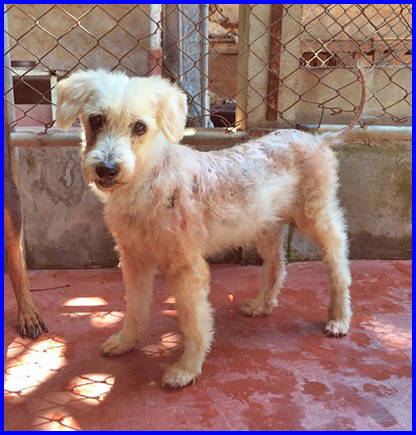 JACK - after

Jack came to our rescue center with a huge wound. However, the dimensions of the wound only became apparent when we removed the fur on his back in order to clean the wound. It was full of maggots and we had a long time to clean the wounds. Also, Jack is blind and so we only saw one way to accommodate him. He moved into Brigitte's house in Chaweng and found his way around surprisingly quickly despite his blindness.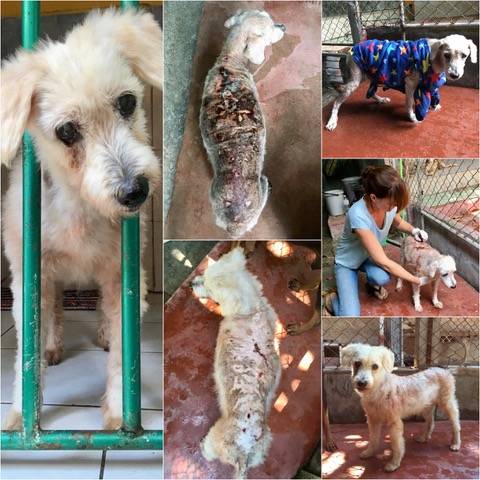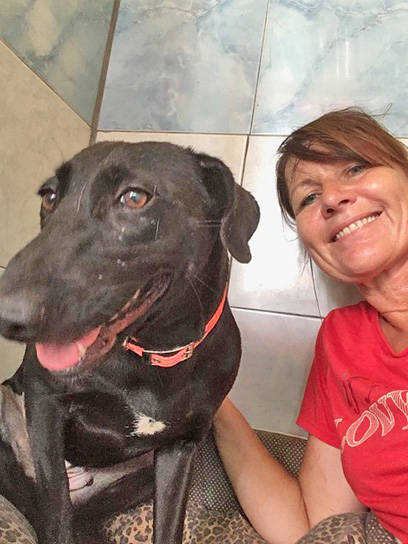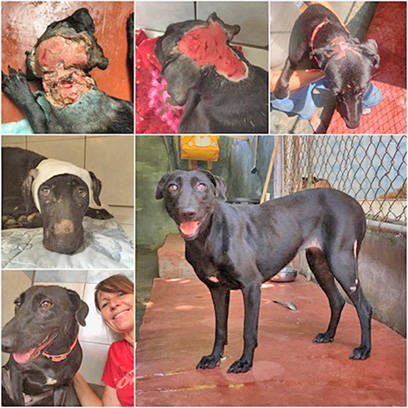 FREYA - before

Freya - it's a miracle she survived with this head injury. It was a long journey over four months with daily wound cleaning, bandages, medication and a lot of love for this shy dog. Now it's done!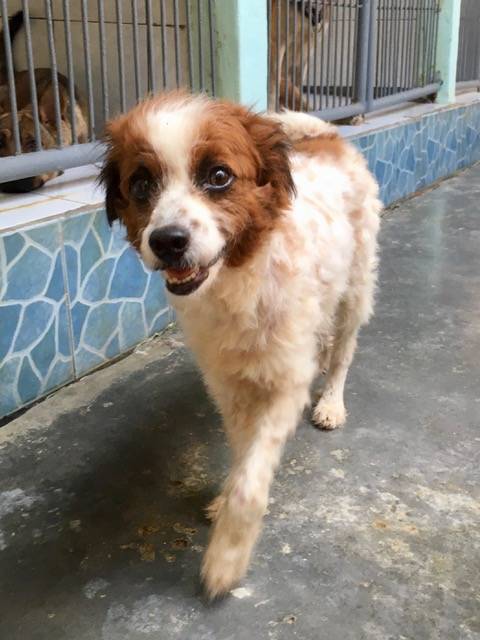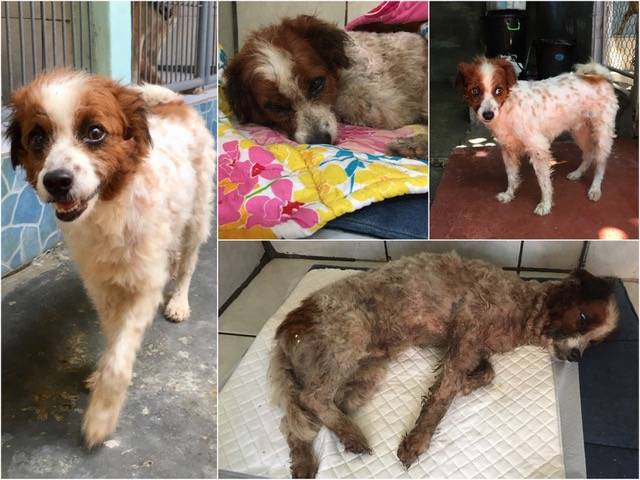 TOULOUSE - before

Little Toulouse was found lifeless in the dark by animal rights activists.
Fortunately, they accepted him immediately and we were able to treat Toulouse at DCRS. We diagnosed a bad blood parasite infection. With therapy and a lot of care, Toulouse turned into a little prince, sweet as candy.