Beste Bilder 2020
Visitors & Volunteers
The corona crisis will come to an end and tourists will come back to the island. The only question is when? Will we hold out until then without these donations?

In the next few months, we will be dependent almost exclusively on help from afar. I can only hope and pray that you will not fail us. Nobody knows what will happen to all of us. This uncertainty scares me. Each of you is affected by this crisis. I wish you ALL that you get through this difficult time well.

Here you can see a small selection from the many beautiful photos we took in 2020.
I hope you enjoy it a little.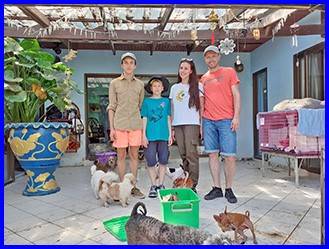 Alexey with his family from Russia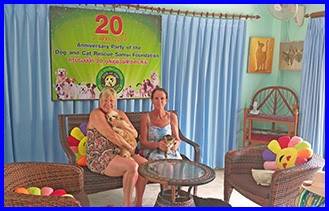 Sue and Wendy from England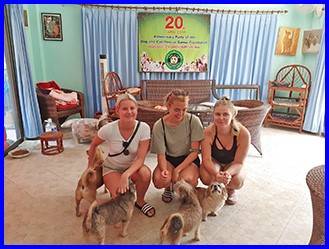 Rieke, Dana and Klaasje from Sweden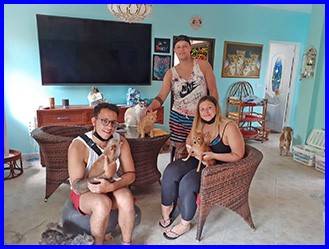 Alejandro, Dean and Anna from Germany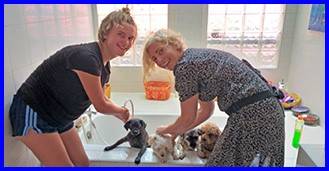 Ania and Veronika washing their dogs in Chaweng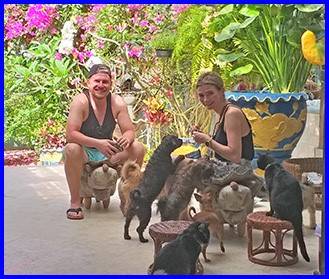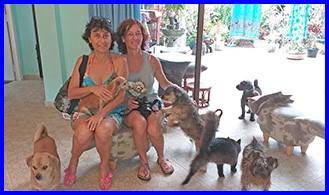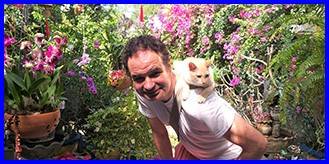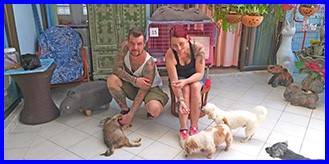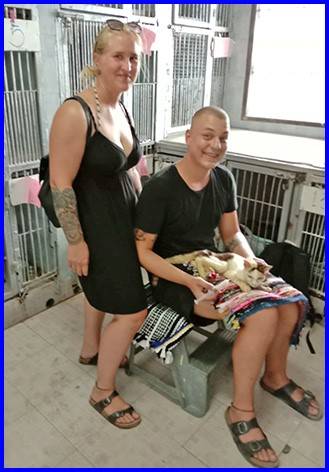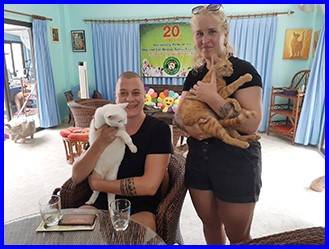 Jessica and Stefan from Germany
visited both shelters: Baan Taling Ngam and Chaweng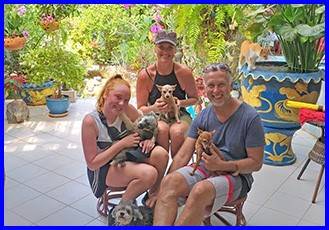 Julie, David and Amy from Australia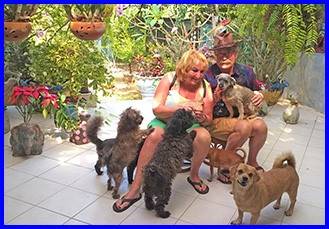 Hans and Bärbel from Germany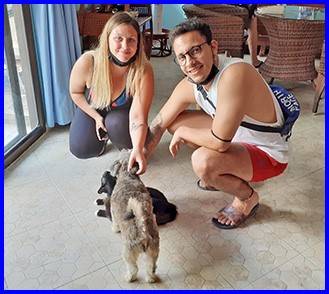 Anna-Maria and Alejandro from Germany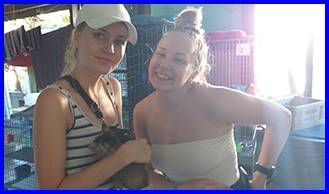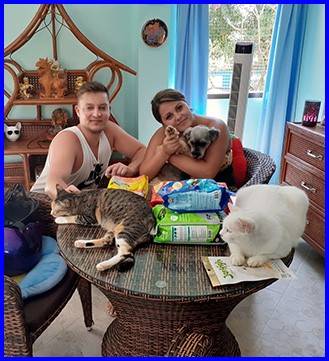 Anna and Dean from Germany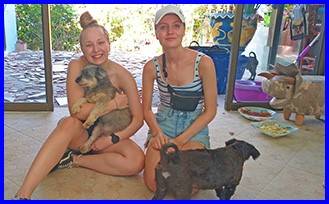 Estella and Katarina from Finland
Josie from Germany with Joosie on her lap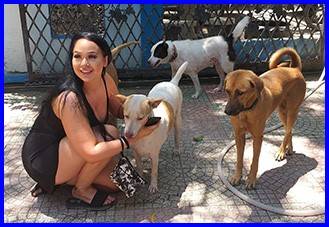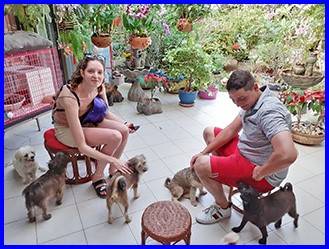 Anouck and friend from France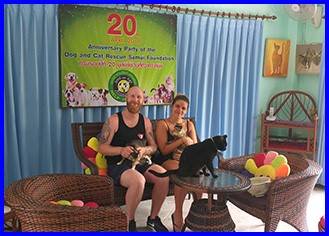 Layla and Raffael from Switzerland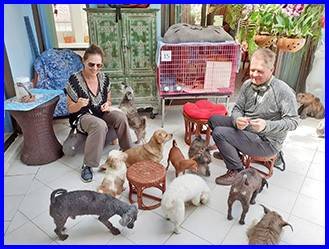 Jaqueline and Mirko from Germany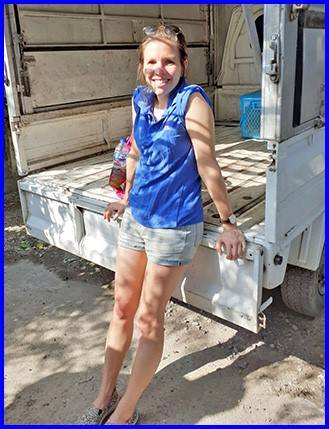 Thea - UK veterinary assistant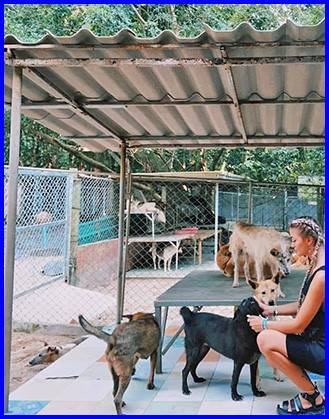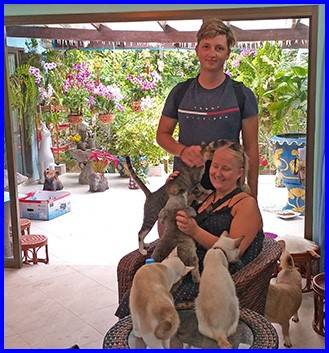 Louise and Davis from Sweden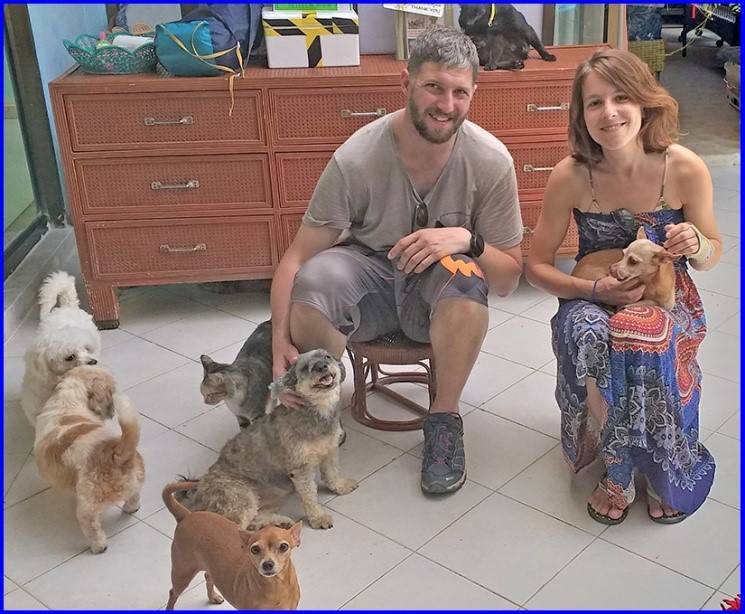 Marjolaine and Oliver from Switzerland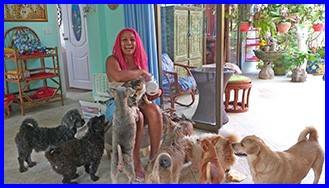 Katie from Canada, she actively supported us in
large animal shelter in Baan Taling Ngam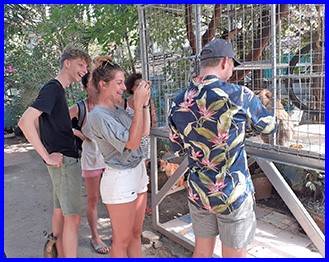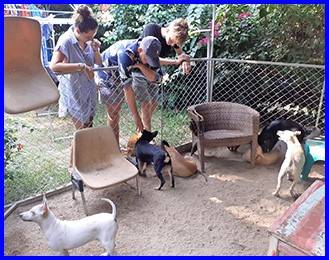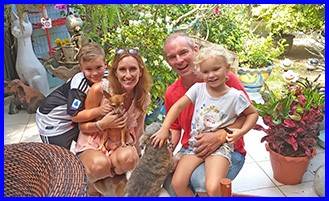 Therese, David, Maya and Harvey
from Sweden
Therese, David, Maya and Harvey
from Sweden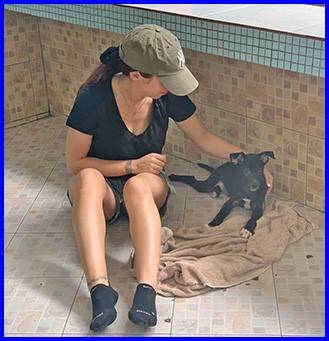 Daisy from England
Daisy tried to raise funds for a blood testing machine in England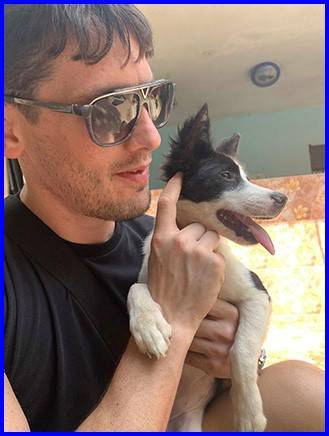 Jesse, Daisy's partner from England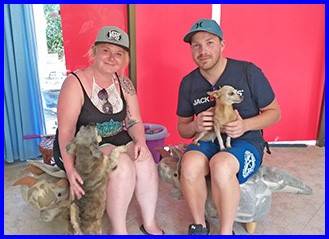 Jessica and Stefan from Austria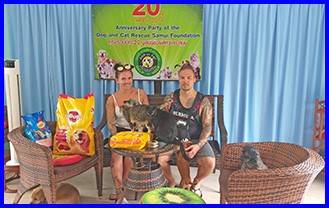 Mariina and Henkka from Finland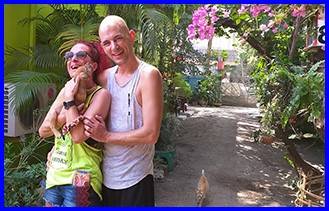 Sarina and Marco from Switzerland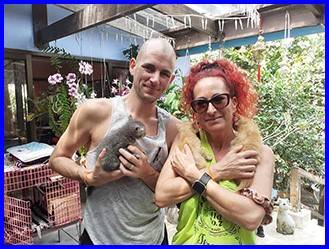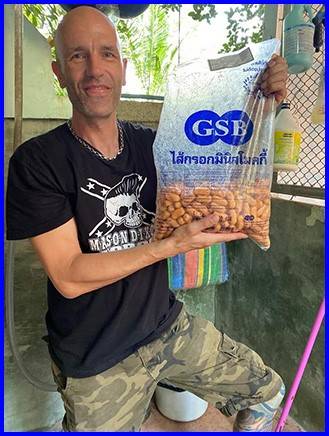 Heiko from Germany in Baan Taling Ngam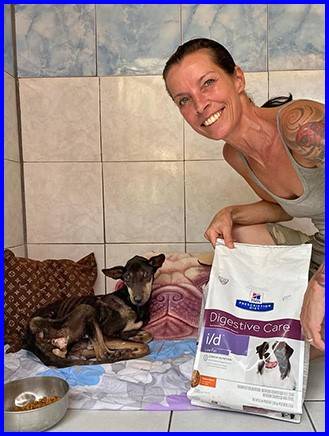 Tina from Germany with Queen Sissi from BIG C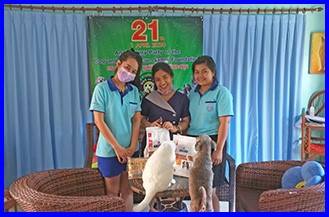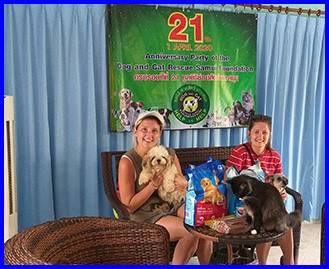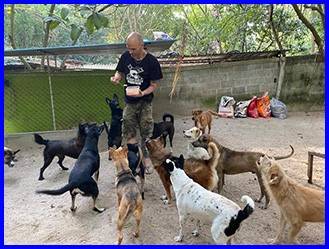 Feeding Heiko while he sausages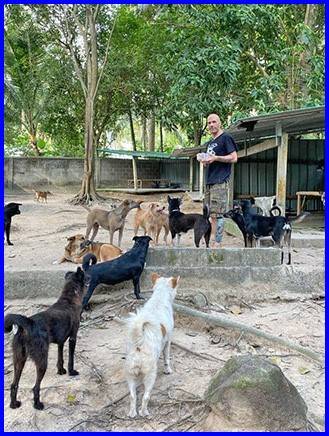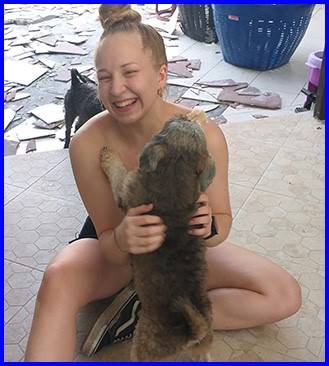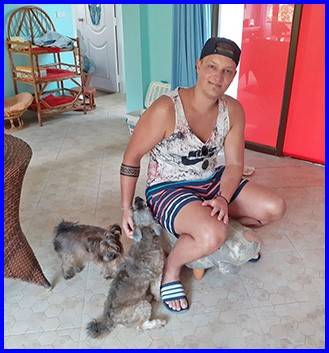 Sandra and Christian from Austria
Mira came to visit very often with her children,
just to play with the cats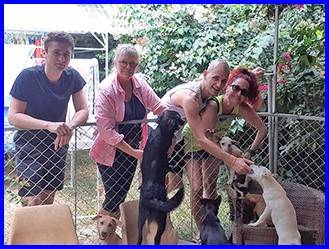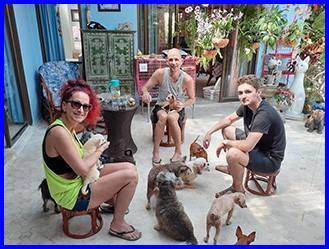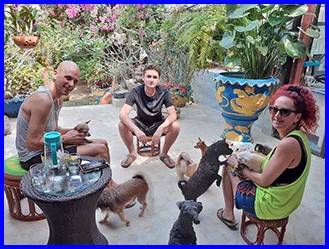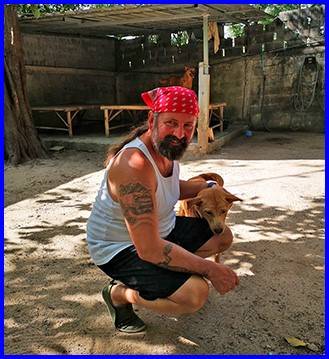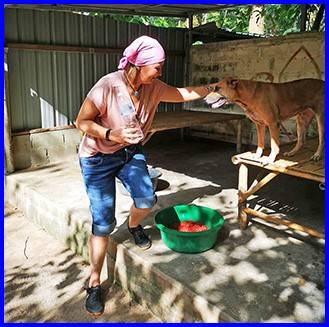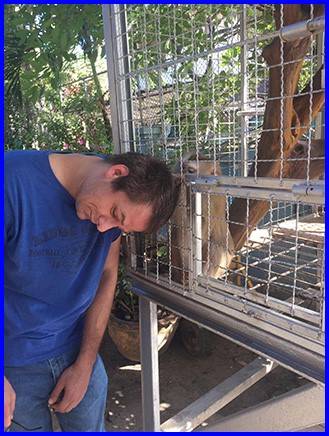 Other visitors also liked to hold out their head or arm,
so that Shompoo could "louse" them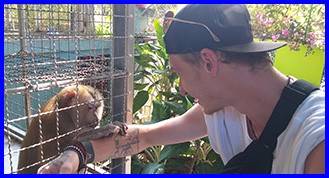 Paul from Austria really liked Shompoo.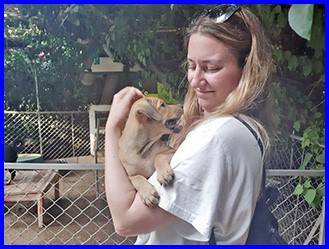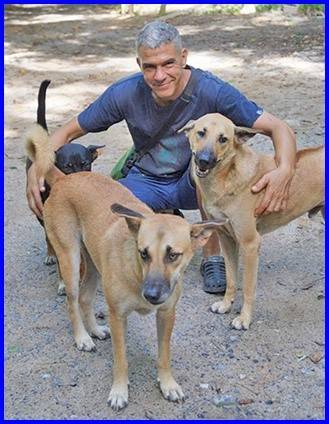 Markus - one of our long-term volunteers
Markus traces can be found everywhere in the shelter. He plastered a lot of walls and re-covered roofs. This year he did a lot of welding work. We ALL hope he'll come back next year.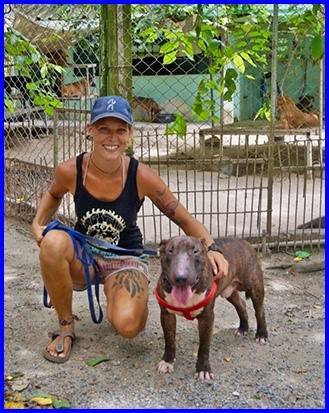 Simone - volunteer
SIMONE goes for a walk with our "fighting dog" Ophelia and our two bull terriers every day. The bull terriers Maximus and Charlie have been with us since April because their master had to leave the island.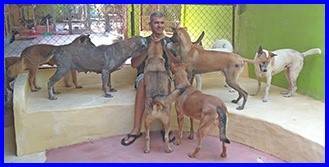 Markus made these beautiful benches for the dogs
Now he is stuck in France and cannot return to the island for the time being. Unfortunately, he couldn't take his dogs with him because they didn't have a rabies antibody test. This is a requirement for entry into the EU. After the test, the dog has to stay in Thailand for another three months.
I can only urgently advise every foreigner to get their darling ready to leave, otherwise it can get very expensive and it can take a long time until you can finally embrace your darling again.
Of course, we cannot only work with volunteers. That would be nice, because they are usually highly motivated and reliable. Long-term volunteers in particular are of great help to us, because they can be entrusted with special tasks: looking after dogs in particular need of care or taking new photos of all dogs in the shelter and taking stock of the dogs in the shelter. Sybille and Julia have just done that because OW has once again taken a longer "vacation". Wasn't an easy task.
OW, one of our helpers has always taken care of the photos for many years. He did it very well and kept tracking down dogs that were not yet registered. Please don't ask me where they come from. Some are no longer picked up by their master. The helpers then release the dogs in one of the large enclosures, because they cannot stay in a single box forever. Unfortunately, you then forget to let us know.
In the shelter, a lot of work has to be done by the helpers, the 60 individual boxes have to be kept clean and the dogs have to receive medicine. The cat house is filling up more and more and the individual boxes of the cats are always occupied.
There is always more to do in the puppy house because more and more dogs are brought in. The area is 7500 square meters, there is a lot to keep clean and repairs are constantly being made. Dr. Sith needs 2 medical assistants. The clinic is well attended! With me in and around the house, there are more and more dogs and cats that need to be looked after.