Beste Bilder 2020
Flight sponsors

We are always looking for flight sponsors for our animal shelter dogs and for dogs that have managed to convince an animal lover that they absolutely have to take them with them, because otherwise they would face an uncertain future. On the beach of a bungalow complex or wherever on Koh Samui. In our shelter, the dogs wait for their departure, if possible with flight sponsors, because freight transport costs a lot more. At the moment 15 dogs are ready for departure, but since there are no flights to Bangkok until the end of April, not even cargo transports are possible. It will be a long time before animal-loving tourists found their way to the island again. Most hotels are closed for at least 3 months and how many businesses will survive is yet to be seen. Please help us to survive the crisis with a small donation.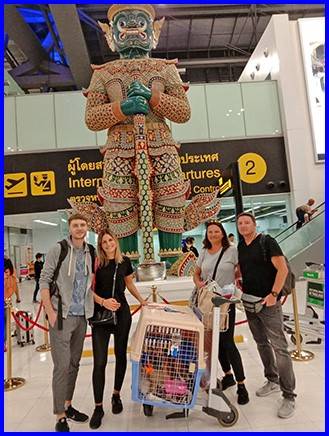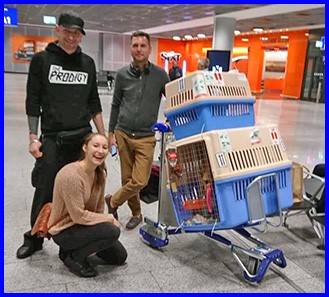 PLEASE CONTACT ME IF YOU WANT TO HELP WITH THIS
GIVE A HAPPY LIFE TO A DOG!
These airlines transport dogs on particularly favorable terms: Aeroflot, Lufthansa, KLM, AUA, and AirFrance. Thai Airways is a bit more expensive, but is well suited for dogs that are not too heavy. Unfortunately, a bigger problem has arisen because for almost all animal lovers who have agreed to take dogs with them as flight sponsors, the transfer time in Bangkok is too short. A stay of at least 3 hours in Bangkok is required because the luggage is no longer checked through if you want to check in a dog in Bangkok. So the luggage has to be checked in again in Bangkok. Then there is the passport control, where it is often very crowded. Therefore, only animal lovers who spend a few days in Bangkok at the end of their vacation or who have enough transfer time are considered flight sponsors.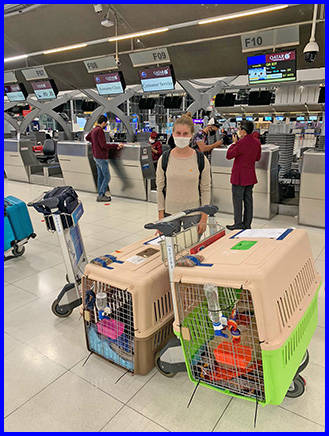 Looking for flight sponsors at the moment makes little sense, because the last tourists have long since left the island. Bangkok Airways has not transported dogs for a long time either. Actually, this regulation should apply until October 24th, 2020. But since BKK-Airways probably had too few passengers, they withdrew their regulation and it is again possible to bring dogs to Bangkok with BKK-Airways. James from "ReloforPaws" was on Samui 4 weeks ago and picked up dogs by car. He also took one of us with him. He is now waiting in BKK for his departure to England. Such a transport is of course relatively expensive and only makes sense if there are many dogs in the car. We can only hope that BKK-Airways won't change its mind and continue to transport dogs as cargo.
The prices of "Action for dogs" are OK: 695 euros per dog to Frankfurt. At the moment only direct flights are possible. Most airlines have not yet resumed service.
Of course, dog transports are difficult to plan and it is also difficult for the new dog owners to plan. Some have to drive through half of Germany to pick up their darling in Frankfurt. Many take a few days off to have time for the new family member.