News & Events
---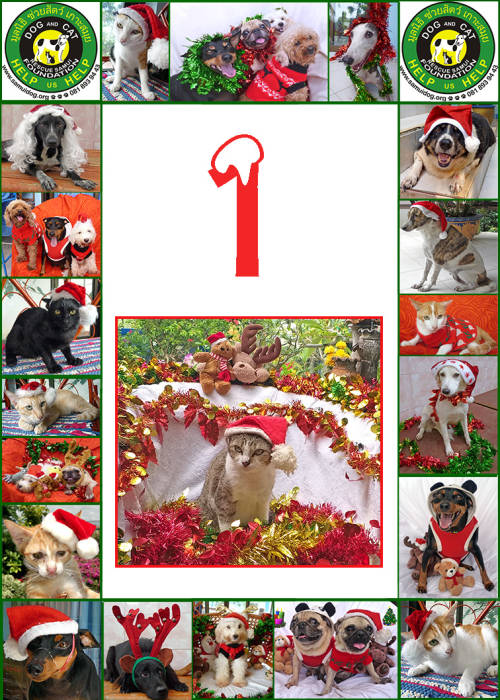 ---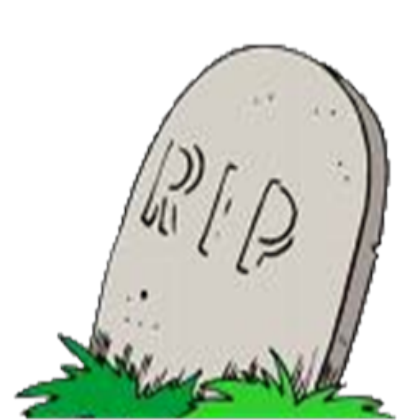 Dog Poisoning Continues
Dog Poisoning Continues In Spite Of Official Law Against Animal Cruelty
Thailand is one of several countries that has never had a sterling reputation for recognizing animal rights but recently their lives is all set to improve thanks to the promulgation of a long-overdue law against animal cruelty. The legislation not only seeks to prevent cruelty and torture but also requires owners to provide animals with proper health care and living conditions. Violations are considered a criminal offence and punishment is a maximum Bt40,000 fine and/or two years in jail.
Unfortunately the dog poisoning on Koh Samui has not stopped beside the law. Once again we had several dog owners reporting their dogs being brutally poisoned and we continue to get many cases of dog poisoning at our dog and cat rescue center. In most cases people just drop the poison on the ground and it is then the dogs decision to eat it. What a cowardly excuse! Recently we heard about cases especially in the airport and Thong Krut area. If you see people being cruel to animals, you have the possibility to report it to the local police by calling 191 or report it to the Tourist Police by calling their hotline at 1155, but be a little patient and collect some evidence. Take a short video clip or pictures of the dog. This will make it easier for the law to intervene.
September 04, 2020
---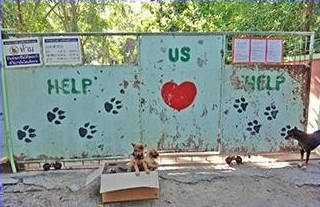 Please Help us Help
We still need YOU. We only have YOU.
The last tourists left the island in April. The few tourists who are still here now did not want to be "saved". Corona without end. In April I already had the worst fears, because many hotels had decided to close for 5 months. In the meantime, many hotels, bungalow complexes and shops are advertised for sale ... I can hardly expect help from the island, because the poverty caused by the complete decline of tourism is terrifying.
THANK YOU, THANK YOU and THANK YOU again that you did not let us down in this global crisis. Please don't leave us alone in the future either!
September 04, 2020
---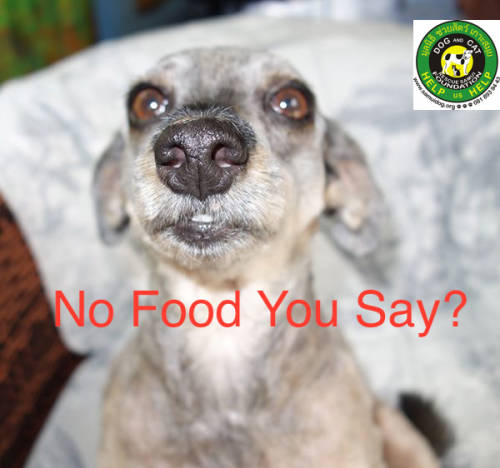 ---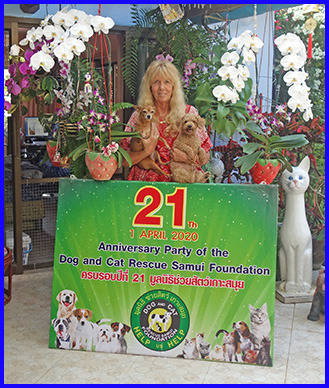 21th Anniversary of the Dog and Cat Rescue Samui Foundation on the 1st APRIL 2020
Corona - a nightmare has come true. Everyone is affected and powerless against the invisible enemy.
I sincerely hope and wish you health and all the necessary strength to get through this difficult and challenging time.
Today was supposed to be a day of joy, but unfortunately the Coronavirus put a spanner in the works. The first time in 21 years, we will not have an anniversary party. In Thailand it is customary to hold a small celebration for the staff once a year.
I am very concerned about the continued existence of our Dog Rescue Foundation.
We all try hard not to worry too much about the near future and take every challenge 'One Day at a Time' but of course the scary question remains: Will we collect enough donations in the future to keep our medical program going?
At the moment, we neuter / sterilize daily at least 6 dogs or cats. There are also many injured and sick animals that Dr. Sith treats every single day.
Will we get enough donations to feed over 500 hungry mouths every day? We feed so many dogs at the animal shelter, at the temples and at the feeding stations we have created all over Koh Samui. There are also about 100 cats waiting for food every day.
I am also very concerned about the beach dogs. A lot of hotels and bungalows are closing or have already closed. These dogs then run to the streets where the tourists usually sit in the restaurants.
But the restaurants are all closed and the streets are deserted.
We will see where we can build feeding places for these dogs. That sounds easier than it is because Thai people or foreigners living on Koh Samui are often hostile towards us. Feeding places are often destroyed. But we do not give up and will do everything we can for the dogs and cats.
WE KNOW THIS IS A VERY CHALLENGING AND HISTORICAL TIME FOR EVERYONE BUT
PLEASE DO NOT COMPLETELY FORGET ABOUT US IN THIS HEAVY CRIES!
Many thanks to ALL and stay healthy!
Many greetings
Brigitte and
The DRCS-Team
March 25, 2020
---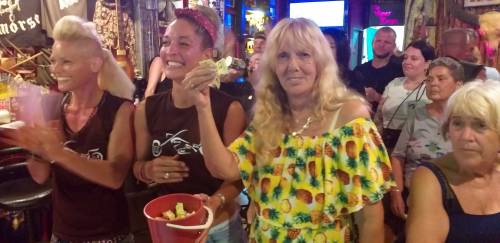 Fundraising a huge success!
Thank you very much for your generous donation and support at the Viper Room Fund Raising on March 5th. We raised an incredible 43,700 baht! This allows us to vaccinate all the dogs in the shelter for 1 year which is a wonderful gift to them.
It was a fun evening with a great turnout with people from all over the world. Thank you so much to Rob and his hardworking Team from the Viper Room! A huge THANK YOU to Anne, Julia, Jay and Renee for organizing this very successful event. Renee, you rocked that Panini-Corner, THANK YOU SO VERY MUCH! Thank you also to Linda from the Dog Rescue, Tony, Stefano and Sergio for your great support!
Once again a special THANK YOU to everyone who donated a raffle price for our very fun and successful Raffle-Action:
Nikki Beach, Aromi Diversi Pizzeria, Natural Detox Resort, Riverside, Easy Divers, Tongsai Bay, Visit Natural Detox Spa and Beauty Centre, Dudu Bao, Tropical Toe Knees, Archipelago Communications, Bali Restaurant, Eldorado Restaurant, Bungy Jump Chaweng, Ozo Chaweng.
Thank you all from the bottom of all our hearts. It means a lot to us that there are so many of you out there who support the animals!
Dog & Cat Rescue Foundation
Brigitte and Team
March 25, 2020
---
5. MARCH 2020 Dog & Cat Rescue Raffle Prize Rock-Biker Fundraising
With Dog & Cat Rescue low on funds for vaccines and with many bacteria and viruses going round in the heat of the tropics, we need your help please!
We are partnering with Viper Room, Lamai rock bar, and the biker clubs joining the Surat Thani biker weekend to offer you a fun evening. There will be a raffle, barbecue, drinks and of course, rock music... and some awesome bikes to view ;)
We already have some amazing raffle prizes on the list, as you can see from the logos in the picture. Please join us on the night or you can also message us if you wish to buy raffle tickets.
February 29, 2020
---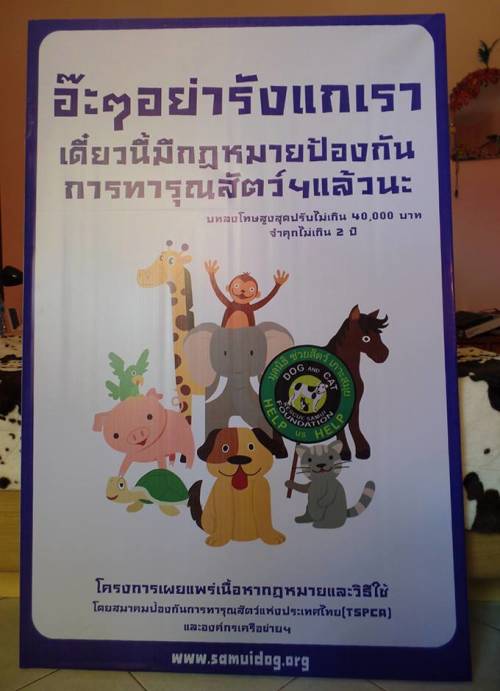 NEW LAW Animal Rights Thailand
We have some great news regarding animal rights in Thailand: There is now an official law against animal cruelty!
FINALLY the Thai government has set up a new law to protect the life of animals.
One can be sentenced to prison for up to 2 years or fined with a penalty up to 40,000 Baht!
Let's hope that next time some hotel manager plans to get rid of some stray animals, they will think twice before they poison the dogs or treat them with cruelty. The DRCS will definitely give it's very best to find the guilty one and make them responsible for their action! Thankfully now supported by the law! I'm sure for every foreigner here, the Thai prison would be an unforgettable experience…..
February 29, 2020
---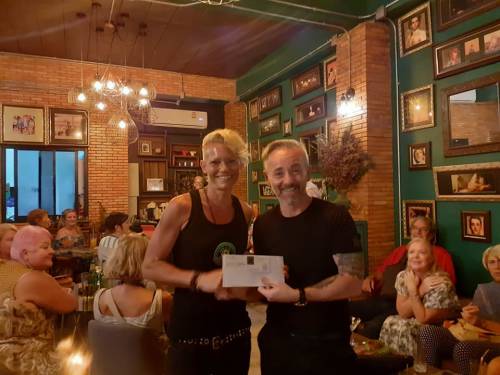 Silent auction huge success!
The silent auction at the Road Less Travelled raised an outstanding 63,000 baht! Thank you very much from the bottom of all our hearts to everyone who donated and who supported us. Dog and Cat Rescue Samui can't survive without all your support and thanks to you all we can continue to provide medication and care for all our strays and resident dogs and cats.
A special thank you goes to all the artists and of course, to the Road Less Travelled. It is amazing to be surrounded by such generosity for our 4-legged friends and to be able to have had the evening in such a wonderful space - thank you Road Less Travelled team.
We were also very lucky to have Glenn Meisenheimer, our local poet, who wrote special poems to read out during the evening and tugged on all our heart strings. Finally, we couldn't have done the evening without our host @Pete Dougal from the Road Less Travelled. Thanks to Pete we all enjoyed a wonderful and memorable show. And last but not least, thank you to Jeannie Garland who did all the heavy lifting and was the creator of the silent auction. We were very lucky to have Jeannie and her experience with these events and who made the art all come together. Everything looked so professional and beautiful. We couldn't have done this without all of you.
Thank you all!
January 16, 2020
---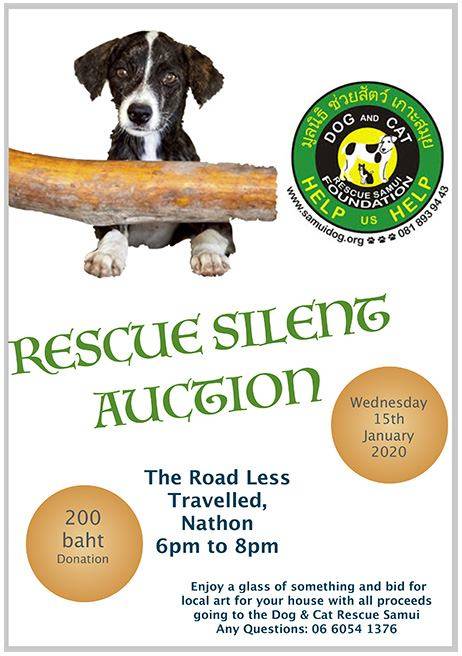 Fund Raising at THE ROAD LESS TRAVELLED IN NATHON - Silent Auciton!
Fund Raising at THE ROAD LESS TRAVELLED IN NATHON - Silent Auciton!
Please mark the date in your calender and come show your support!
As you may know, the Dog & Cat Rescue are low on funds and whilst we just had a very successful crowdfunding campaign for our Temple and street dogs and cats, we also need to remember all our residents.
We therefore thought it would be great to bring everyone together locally and have fun around a silent auction. There will be local art for sale from which everything goes to the dogs and cats. You will also have the opportunity to donate whether you buy or not.
Please come and enjoy a drink or dinner, or both :) , at Nathon's favourite bar-restaurant, view some beautiful art and help our local furry friends.
December 29, 2019