Nachrichten
---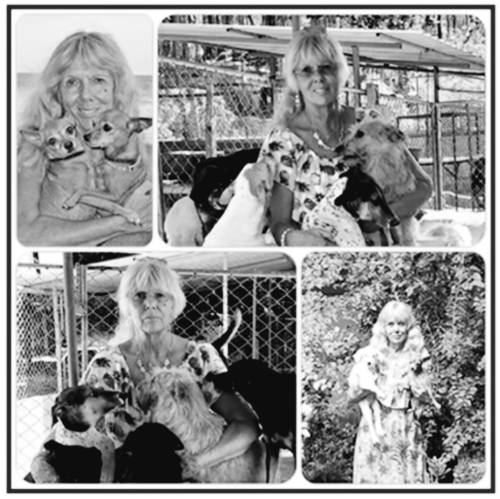 In Gedenken an Brigitte Gomm
In Liebe, Dankbarkeit und voller Hoffnung auf ein Wiedersehen in einer anderen, uns unbekannten Welt, nehmen wir in Trauer Abschied von der Gründerin der Dog and Cat Rescue Samui Foundation.
Wir werden dich niemals vergessen!
August 06, 2021
---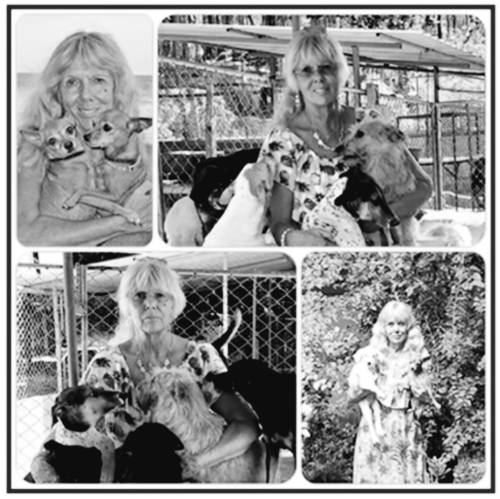 In memory of Brigitte Gomm
In
love,
gratitude
and
full
of
hope
for
a
reunion
in
another
world,
unknown
to
us,
we
bid
farewell
in
sadness
to
the
founder
of
the
Dog
and
Cat
Rescue
Samui
Foundation.
We
will
never
forget
you!
August 06, 2021
---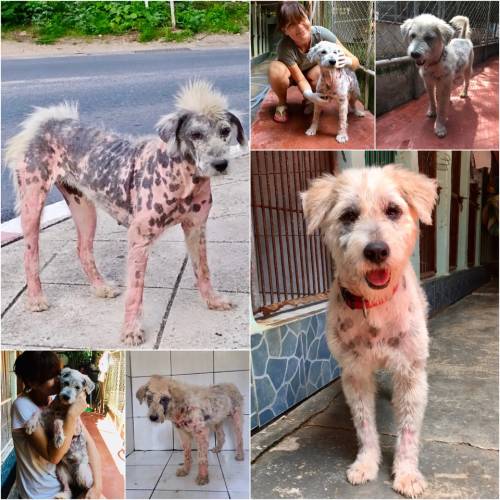 Vorher/Nachher Patienten
Wir brauchen EUCH weiterhin. Wir haben nur EUCH.
Bitte helft uns auch in Zukunft, damit wir solchen Notfällen helfen können.
January 24, 2021
---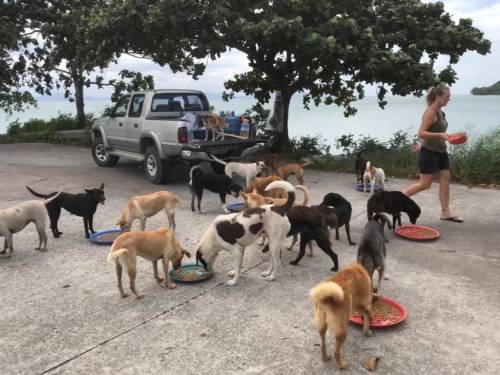 FUTTERSTELLEN
January 25, 2021
---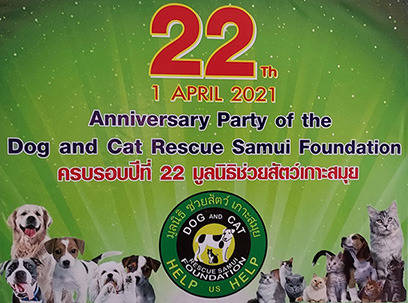 22 Jahre Dog and Cat Rescue Samui
22 Jahre Dog and Cat Rescue Samui
March 29, 2021
---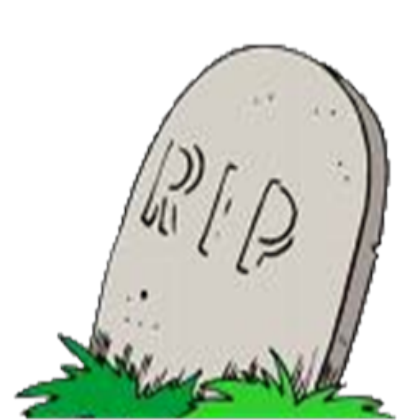 Hundevergiftung
Die Hundevergiftung wird trotz des offiziellen Gesetzes gegen Tierquälerei fortgesetzt.
Thailand ist eines von mehreren Ländern, die noch nie einen hervorragenden Ruf für die Anerkennung von Tierrechten hatten, aber in letzter Zeit wird sich ihr Leben dank der Verkündung eines längst überfälligen Gesetzes gegen Tierquälerei verbessern.
Die Gesetzgebung zielt nicht nur darauf ab, Grausamkeit und Folter zu verhindern, sondern verlangt auch von den Eigentümern, dass sie den Tieren angemessene Gesundheitsversorgung und Lebensbedingungen bieten. Verstöße werden als Straftat angesehen und die Strafe beträgt maximal 40.000 Bt und / oder zwei Jahre Gefängnis.
Leider hat die Hundevergiftung auf Koh Samui nicht neben dem Gesetz aufgehört. Wir hatten erneut mehrere Hundebesitzer, die berichteten, dass ihre Hunde brutal vergiftet wurden, und wir bekommen weiterhin viele Fälle von Hundevergiftung in unserem Hunde- und Katzenrettungszentrum. In den meisten Fällen lassen die Leute das Gift einfach auf den Boden fallen und es ist dann die Entscheidung des Hundes, es zu essen. Was für eine feige Ausrede! Kürzlich haben wir von Fällen vor allem im Flughafen und in der Region Thong Krut gehört. Wenn Sie sehen, dass Menschen grausam gegenüber Tieren sind, haben Sie die Möglichkeit, dies der örtlichen Polizei unter der Nummer 191 oder der Touristenpolizei unter der Hotline 1155 zu melden. Seien Sie jedoch ein wenig geduldig und sammeln Sie Beweise. Machen Sie einen kurzen Videoclip oder Bilder des Hundes. Dies erleichtert dem Gesetz das Eingreifen.
February 18, 2021
---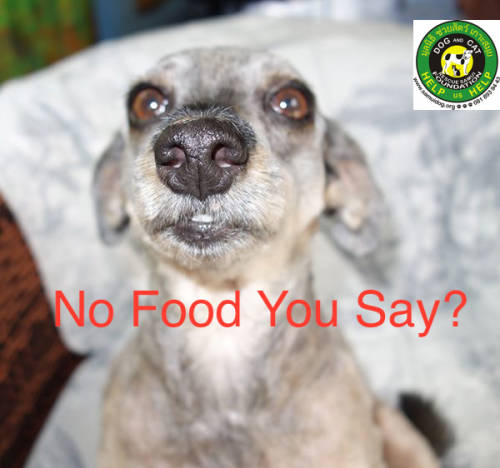 ---
NEUES RECHT Tierrechte Thailand
Wir haben einige großartige Neuigkeiten in Bezug auf Tierrechte in Thailand: Es gibt jetzt ein offizielles Gesetz gegen Tierquälerei!
Man kann zu bis zu 2 Jahren Gefängnis verurteilt oder mit einer Strafe von bis zu 40.000 Baht bestraft werden!
Wir hoffen, dass einige Hotelmanager, wenn sie das nächste Mal streunende Tiere loswerden wollen, zweimal überlegen, bevor sie die Hunde vergiften oder sie mit Grausamkeit behandeln. Das DRCS wird auf jeden Fall das Beste geben, um den Schuldigen zu finden und ihn für sein Handeln verantwortlich zu machen! Zum Glück jetzt vom Gesetz unterstützt!
Ich bin mir sicher, dass das thailändische Gefängnis für jeden Ausländer hier ein unvergessliches Erlebnis sein würde.
February 29, 2020
---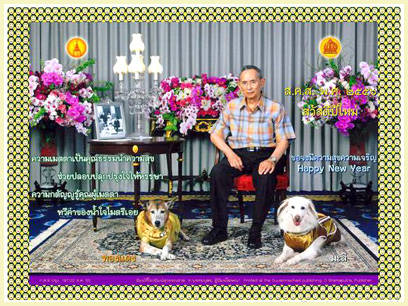 ---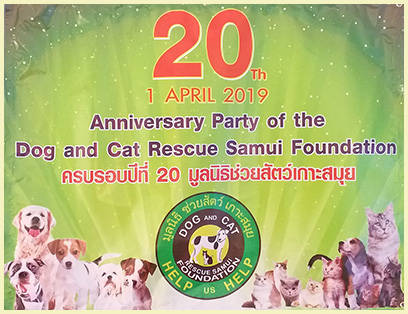 1. APRIL 2019 20 YEARS DOG AND CAT RESCUE SAMUI FOUNDATION
On April 1st 2019 we celebrate the 20 years anniversary of the DOG AND CAT RESCUE SAMUI FOUNDATION.
December 04, 2019