Besucht Uns
BESUCHER UND VOLONTÄRE SIND IMMER HERZLICH WILLKOMMEN.
Die Hunde und Katzen freuen sich immer über Streicheleinheiten!
Dog and Cat Rescue Samui Foundation
Brigitte Gomm
112 / 35 Moo 6 Bophut
Samui 84320 Suratthani

Telefon: +66 77 413 490
Mobile / WhatsApp: +66 81 893 94 43
E-mail: info@samuidog.org
Website: www.samuidog.org
Facebook: DCRS Facebook


Wie kommt man zum DRCS?
Wir haben zwei Tierheime: ein kleines in Chaweng bei unserem Haus und ein großes in Baan Taling Ngam im Südwesten der Insel. In Chaweng wir sind täglich von 9.30 Uhr bis 17.30 Uhr geöffnet und in Taling Ngam täglich von 10.00 Uhr bis 16.45 Uhr. Eine vorherige Anmeldung ist nicht erforderlich. Kommt einfach vorbei und schaut euch das Heim in Chaweng oder in Baan Taling Ngam an!
Ihr könnt euch natürlich auch vor eurem Besuch telefonisch bei mir melden und weitere Auskünfte erhalten. Telefon: 077 413 490 oder 081 893 94 43 - Brigitte. Ich spreche Deutsch, Englisch und Thai.

Hier sind die Google Koordinaten für Chaweng:
https://maps.google.com/?q=9.522411,100.053651&hl=de-CH&gl=ch


Wie kommt man zum Tierheim in Chaweng (von der Strandstrasse aus)?
Wenn du von der Chaweng Beach Road kommst, halte dich in südlicher Richtung, bis die Einbahnstrasse endet! 1 = Family Mart. Gehe rechts die Strasse hoch (Chaweng City Hotel (2) ist links von dir und gehe ca. 200 m bis zur Straßengabelung. Halte dich links (7-Eleven (3) ist links von dir) und gehe in Richtung Chinesischen Tempel (4). Passiere den chinesischen Tempel (4) und gehe etwa 200 Meter in Richtung Ringstrasse. Bei den DRCS- und Will Wait Apartment-Schildern (6). Biege rechts in die Strasse ein und gehe sie bis ganz hinauf. Ein Schild ist am Eingangstor angebracht. Bitte läute die Klingel. Wenn du hereinkommst, passe bitte auf, dass die Hunde nicht entwischen und schließe das Tor hinter dir!

Wie kommt man zu dem Tierheim in Chaweng (von der Ringstrasse aus)?
Wir befinden uns ca. 2,5 km südlich von Tesco. Auf der linken Seite ist die Bank of Ayudhya (7) (gelbes Gebäude mit gelbem Schild), biege an der Verkehrsampel links ab. Gehe ca. 600 m bis zu den Schildern 'Dow Seafood' (9) und dann 'Will Wait Apartment' (6) auf der linken Seite. Gehe links die Strasse hoch, wo die Schilder des DRCS und 'Will Wait Apartment' sind. Gehe diese Strasse bis zum Ende und dann nach rechts.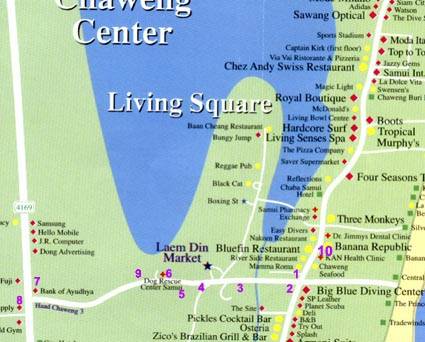 Wie kommt man zum Baan Taling Ngam Tierheim aus nördlicher Richtung (Nathon)?
Hier sind die Google Koordinaten für Baan Taling Ngam:Hier sind die Google Koordinaten für Baan Taling Ngam:
https://goo.gl/maps/HLC8KjEATLTzmQMG6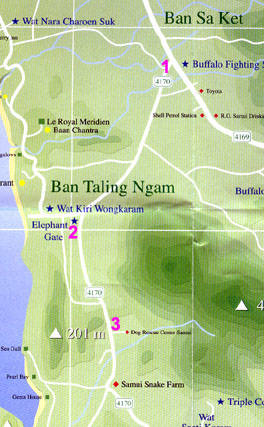 Fahre in südlicher Richtung durch Nathon hindurch und biege an der dritten Ampel nach Ortsende Nathon nach rechts ab (1). Route 4170. Folge dieser Strasse ca. vier km, vorbei am Elephant Gate (rechter Hand). Bleibe auf der Hauptstrasse (fahre z. B. nicht durch das Elephant Gate (2) durch). Wir befinden uns auf der linken Seite ca. 800 m nach dem Elephant Gate (3).